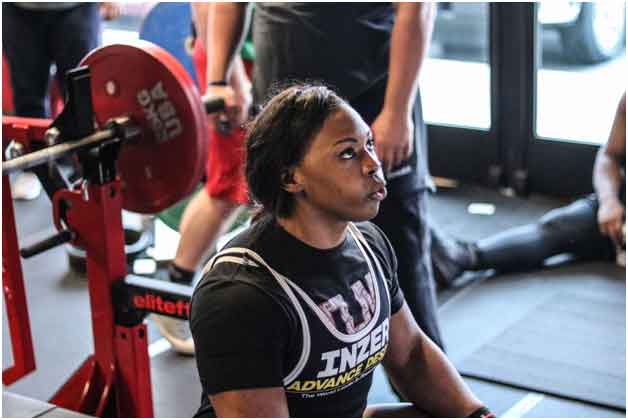 When did you start powerlifting?
I started powerlifting as a freshman in high school.
Why did you start powerlifting?
I was sexually molested at thirteen, and I knew that power lifting would make stronger, thus making it physically and mentally impossible to be taken advantage of by anyone.
Do you lift Raw / Geared / Both?
I started out in singly ply, because gear was the only option in high school. Currently, I compete in the classic raw division.
What are some of your lifting accomplishments?
Sophomore year in high school, I went to regionals in the 148 pound weight class. I pulled 375lbs, which was the new Texas regional record. I placed third at regionals at qualified for the Texas High school Powerlifting Association State meet. I bombed at State.
Junior year in high school, I went to regionals in the 148 pound weight class. I placed second at regionals and fourth in the 148 pound weight class at the THSPA State meet.
Senior year in high school, I went to regionals. I placed second at regionals, and I won the overall best heavy weight lifter and bench award for the 165 pound weight class, and I placed fifth at the THSPA State meet.
My overall best total in high school was 925 pounds: Squat 340, Bench 180, and Deadlift 405.
Currently, I am the second ranked classic raw powerlifter of all time in the 198 pound and 181 pound weight classes.
I got an invite to Boss of Bosses 3, and achieved my overall best total of 1427 pounds: 567 pound squat, 319 bench press, and 562 Deadlifts.
Currently, I have the number one ranked bench press in America for the 198 pound weight class.
What do you enjoy most about powerlifting?
I enjoy pushing my body past its natural limits to achieve new numbers in the gym.
Who are your biggest influences in this sport?
God, my husband, Steve Goggins, and my Family.
Who are some of the contributors to your success as a powerlifter?
My biggest contributors is God, my husband, Steve Goggins, and my family.
What do you believe is the most important aspect of your training and why?
Nutrition. It doesn't matter how well training goes, if I don't give myself proper nutrition I will never reach my goals. Also, my workouts go by much smoother by properly fueling my body.
What motivates you?
After I pulled 405 pounds my junior year, I started dreaming about becoming the world strongest women. Every day I step into the gym, I constantly remind myself what's at stake.
What's the toughest thing you've had to overcome in order to reach your goals?
The toughest thing I have had to overcome in order to reach my goals would be my stubbornness.
What is your favorite quote / song to get you motivated?
Philippians 4:13 and Tupac "Hail Mary"
Has becoming a powerlifter revealed anything unexpected for you?
Yes, Powerlifting revealed that I can do anything I set my mind to.
What tips would you give to a beginner powerlifter?
I would remind a beginner powerlifter that nothing worth fighting for is going to come easy.
What other sports do you do / have you played?
I played volleyball, basketball, track and field, and I was on a dance team.
What do you do professionally?
Full time college student and IFPA certified personal trainer.
Outside of powerlifting, what do you like to do in your spare time?
I like to catch up on my studying for my classes, and I love to dance with my dog.
How did you come to train with Steve?
July 7th 2016, I bombed at USPA Nationals in Las Vegas, Nevada. I first met Steve, after I missed my first squat. Steve went out of his way to help critique me to get the next lift. Steve Goggins is an ambassador to the sport of powerlifting.  The very next day, my husband and I joined Goggins Force.
What is the best part of being part of The Goggins Force?
The constant love and support from the Goggins Force family. Also, the individuals that make up Goggins Force are respectable individuals.
How has your lifting changed since training with Steve?
I am a much smarter and stronger lifter. Also, my technique is spot on now!