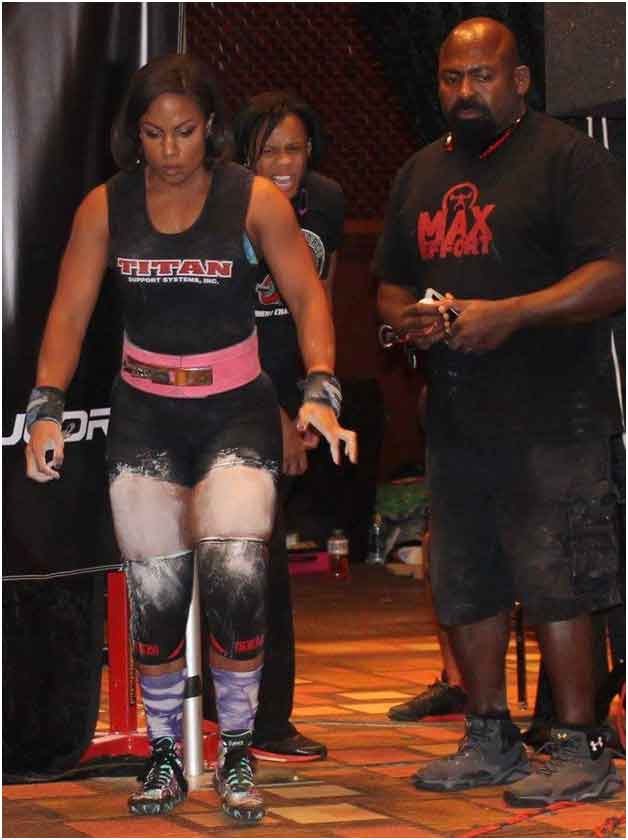 When did you start powerlifting?
January 2013
Why did you start powerlifting?
I began working out to lose weight. Then my trainer introduced weightlifting into my workouts. I loved it! He asked me if I wanted to compete, and I never looked back. I have always loved competing and being challenged, so it was perfect!
Do you lift Raw / Geared / Both?
Raw…for now
What are some of your lifting accomplishments?
226lb bench press – July 2016
Wilks score of 468 – October 2016
1,003 lbs total at 147 lbs body weight – October 2016
Continuous improvement – increased my total every meet for the last 2 years!
What do you enjoy most about powerlifting?
The challenge of pushing myself and growth I have achieved both physically and emotionally. I am so much stronger in EVERY aspect of my life.
Who are your biggest influences in this sport?
Steve Goggins and Gene Bell for their coaching input and impact they have had on our sport. The ladies of PrettyStrong Powerlifting for being the first to welcome me into a lifting community and giving me my first experience as being a part of a "team". Kimberly Walford teaching the importance of mental toughness and believing in myself. There are many more, but these are the people I have had the pleasure of working with so far.
Who are some of the contributors to your success as a powerlifter?
Most recently, my coach Steve Goggins for sure!  I also have a small circle of friends and family who support me and my passion. Both of these are most important if a lifter wants to be successful. We compete as individuals, but always need a strong support system.
What do you believe is the most important aspect of your training and why?
I was injured pretty much my whole first year of lifting. I worked out for hours 5-6 days a week and never took time for recovery. I didn't pay attention to eating the right foods, wasn't sleeping enough, wasn't stretching, etc. I truly feel the most important aspect of training is recovery. I never thought there was a such thing as "over training", but I have learned to listen to my body. I also have more confidence to speak up when something doesn't feel right.
What motivates you?
I love that I have been able to inspire others to start lifting and committing to healthier lifestyles. Most of all, I love how my relationship with my son has grown. He told me that I am his biggest role model and that it motivates him to see how much I push myself and how hard I work. I love training and working towards a goal. Most of all, I know how much I have grown and improved as a person and want to continue to make progress.
What's the toughest thing you've had to overcome in order to reach your goals?
I tweaked my back during squat warmups in December 2014 and the USAPL American Open. I was able to squat 292lbs at that meet, but then the pain got worse afterwards. I kept training while rehabbing my injury and went to two doctors who strongly tried to discourage me from lifting.
What is your favorite quote / song  to get you motivated?
"Remember where you came from and why you started."
No Problem – Lil Scrappy
Get Buck – Young Buck
Outkast – Bombs Over Baghdad (B.O.B)
Has becoming a powerlifter revealed anything unexpected for you?
Powerlifting has helped me overcome some of the shyness I have…I am more confident talking to people and putting myself out there. I have become more self aware and my self esteem has significantly improved. I didn't expect to love it so much, or to love the changes in my life that have come with committing to the lifestyle of a competitive athlete. I am healthier, stronger, and I have made new friends all over the country!
What tips would you give to a beginner powerlifter?
LEARN PROPER FORM! Find a reputable coach and work on mastering the basics before loading a bunch of weight on the bar! And please…don't start comparing yourself to other lifters. If you wait until you are "ready" or at someone else's level to start competing, you may never get there. It is a waste of time. I love the sport because every time I step on the platform, my goal is to beat myself (get a higher total). If I was motivated by the medals and trophies because I want to win all the time, I would have quit after my first year.
What other sports do you do / have you played?
I played volleyball and tennis in high school. I played recreational volleyball as an adult. I also play golf occasionally.
What do you do professionally?
I am an accountant.
Outside of powerlifting, what do you like to do in your spare time?
I am a huge makeup junkie. I can spend hours in beauty supply stores and watching makeup tutorials/reviews. I also enjoy cooking and spending time with my family.
How did you come to train with Steve?
I reached out to Steve in October 2015. I tweaked my back in December 2014, and spent most of the year rehabbing and working on rebuilding my confidence squatting. I watched videos of some of his lifters and was really impressed with how he gave them cues and how technically sound each lifter performed. I felt he would be perfect to help me get back on the platform and compete confidently.
What is the best part of being part of The Goggins Force?
The support, feedback, and coaching I get from Steve is amazing. He listens to my goals and encourages me to go big or go home. I feel confident in his abilities and know he has my best interest in mind. That is very important for a lifter…trust is a requirement in any relationship! I am excited to be a part of a team and know there are people all over the country rooting for me. I hope that I will bring value to the team as an athlete and a friend.
How has your lifting changed since training with Steve?
The best part about training with Steve is that he is always willing to "talk shop" with me. I never feel foolish or silly asking questions, and he doesn't hold back sharing information with me. He gives great feedback! I am so excited about my future as a member of Goggins Force!